canyon exploring with Michele Angileri
Gola della Stella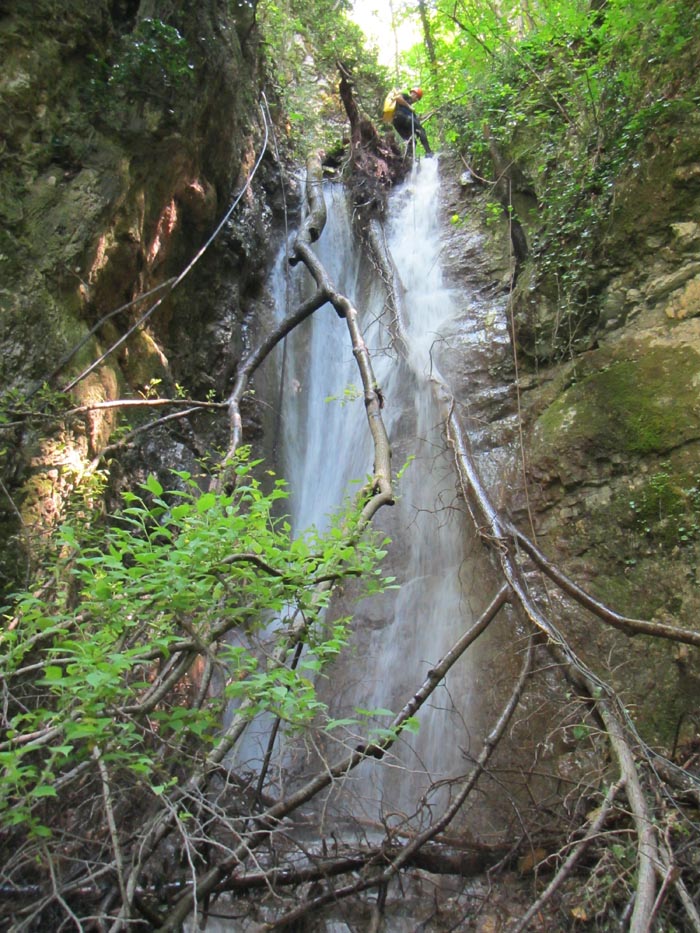 The rupestrian hermitage of Madonna della Stella is located in a place that seems to be made for hosting a hermitage: in the woods, away from the village, in the middle of the high and impressive (and landsliding!) rock wall which ends the short and steep gorge of a perennial stream, near sources of good water.
The hermitage church is, unfortunately, almost always closed by a grating. But you can visit what remains of the hermit cells, carried out in rock wall grottos. You can also take a look at the stream that comes from the gorge, stopping almost immediately because a waterfall prevents you from going over.
And if what you are looking for are just the waterfalls that prevent you from going over, you can return here equipped with rope, harness and wetsuit and go down the easy cascades of Stella canyon.
Name
Gola della Stella
Area
Umbria, Valnerina
Nearest village
Poggiodomo
Elevation loss
135 m
Length
300 m
Highest cascade
15 m
Rock
Travertine limestone
Rating
4
Shuttle
Possible
Explored by
???
Re-explored by Michele Angileri and Andrea Pucci; june 16 2013
&nbsp
Click here to buy passcodes
What you find in the detailed description
I remember ...
I have no news of previous canyoning descents of the Stella canyon apart from our own, but the canyon was covered in full before us to install a hose that brings to the hermitage the water taken from a spring located upstream of the gorge itself. Moreover someone put on the c15 a fixed rope which allows climbing the fall.
Copyright © 2002- Michele Angileri. All rights reserved.