cookieless, no-ads, no threats canyon exploring with
Michele Angileri
Acqua Paradiso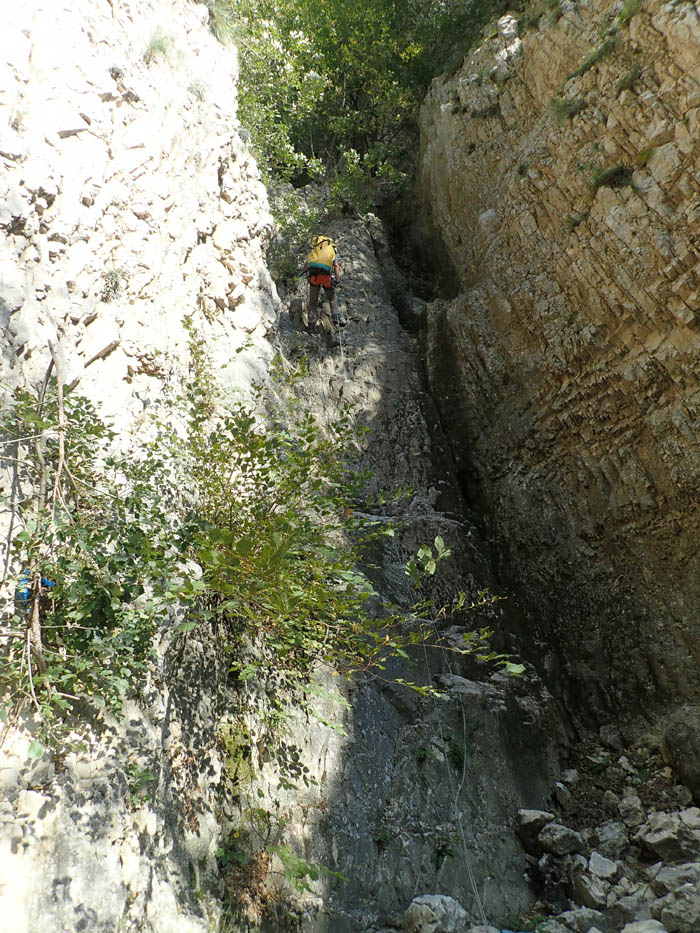 Since the Matese is a karst range, many of the valleys that line the sides of the massif rarely have flowing water. However, some of them feature gorges and falls, and the environment is harsh and wild, so they are interesting canyoning routes.
Acqua Paradiso is one of such deep valleys.
| | |
| --- | --- |
| Name | Acqua Paradiso |
| Area | Campania, Monti del Matese |
| Nearest village | Cusano Mutri |
| Elevation loss | 300 m |
| Length | 600 m |
| Highest cascade | 55 m |
| Rock | Limestone |
| Rating | 5 |
| Shuttle | Possible |
| Explored by | Michele Angileri, Paolo Bracale, Giorgio Ecker, Patricia Mallia, Giuseppe Martino, Enrica Paoloni; october 13th 2018 |
&nbsp
Click here to buy passcodes
What you find in the detailed description
I remember ...
The name Acqua Paradiso (water paradise) makes me think that in the recent past the valley had perennial flow, water always flowed here. Upstream of the gorge there are actually springs, but they are captured, and perhaps this is why today the stream is almost always dry.
Another catchment, destroyed by the floods, is located in the middle of the gorge. It is quite recent, because the pipe that brought the water downstream is made of PVC (pieces of pipe are scattered throughout the second part of the gorge). Those who have taken on the cost and the effort of laying a pipe for hundreds of meters inside a gorge full of falls did it to take the precious water, which we didn't really see in the gorge ...
Photos and video by Michele Angileri and Giorgio Ecker
Copyright © 2002- Michele Angileri. All rights reserved.