cookieless, no-ads, no threats canyon exploring with
Michele Angileri
Fosso delle Zolferate - parte alta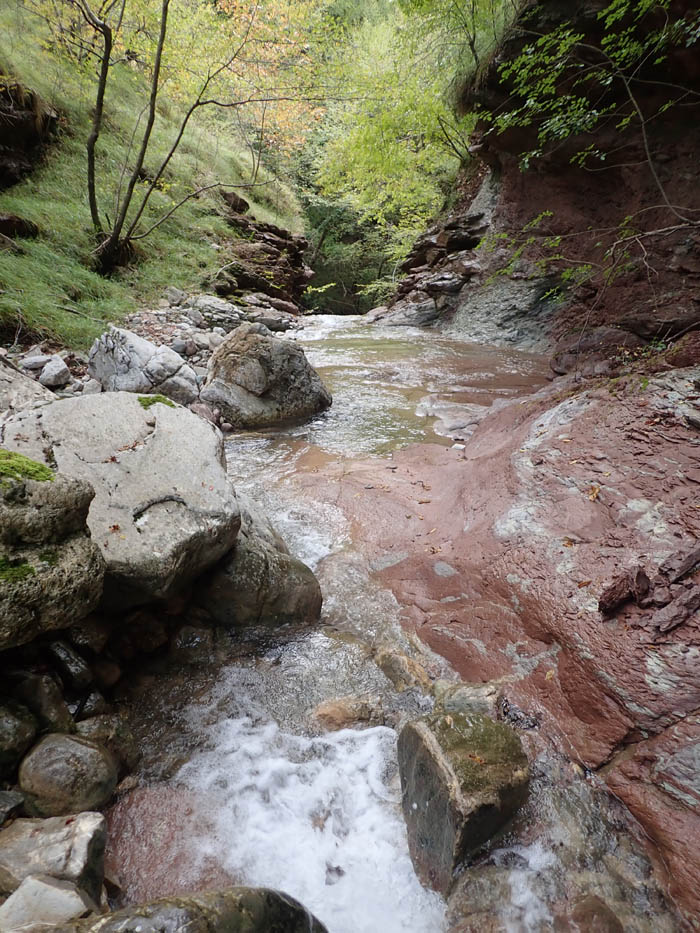 Located on the side of the limestone-made Monte Labbro, the Zolferate valley owes its name to the sources of hydrogen sulphide, the toxic gas that smells of rotten eggs, common in geothermal and volcanic areas. In fact, here we are on the outskirts of the volcanic district of Monte Amiata. At the head of the Zolferate valley there are also the entrances, now walled up, of one of the many cinnabar mines of Monte Amiata, in operation until the 1930s.
The geological complexity of the area becomes evident as you descend along the Zolferate valley. The white limestone gives way to unusual pink rocks interspersed with multicolored flysch. A few rock steps and emerald pools at the bottom of a wooded gorge make the environment, already particular and very beautiful in itself, worthing a canyoning descent.
| | |
| --- | --- |
| Name | Fosso delle Zolferate - parte alta |
| Area | Toscana |
| Nearest village | Roccalbegna |
| Elevation loss | 90 m |
| Length | 750 m |
| Highest cascade | 20 m |
| Rock | Pink limestone |
| Rating | 3 |
| Shuttle | No |
| Explored by | Michele Angileri; october 18th 2020 |
&nbsp
Click here to buy passcodes
What you find in the detailed description
I remember ...
Seeing it on satellite images, the Fosso delle Zolferate did not seem interesting for canyoning: just a long and not very steep valley.
Even live I had that feeling. One day when I was in the area, however, I had some time left over and I used it to go up the valley for a while.
I was immediately won over by the peculiarity of the rock, its beautiful old pink color. Arrived at the edge of the large green pool at the bottom of a splendid waterfall, I realized that the Fosso delle Zolferate deserved a canyoning descent.
But it was necessary to understand where to start, so another day I went to the head of the valley, through solitary farmgrounds partly abandoned and covered by bush. There were concrete buildings, pylons, the evident remains of a mine ... I imagined the comings and goings of people and mechanical vehicles, where there was now silence, the smell of sulfur, and dense vegetation through which finding the way to the creek and then back up.
Peace and adventure.
Copyright © 2002- Michele Angileri. All rights reserved.