cookieless, no-ads, no threats canyon exploring with
Michele Angileri
Fosso delle Vaglie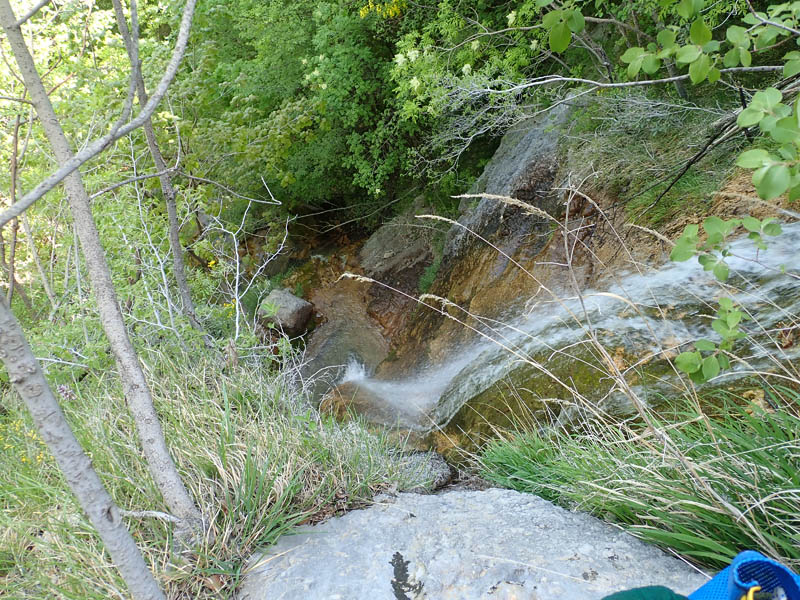 An interesting canyoning route through an open, wooded valley that goes to river Simbrivio.
| | |
| --- | --- |
| Name | Fosso delle Vaglie |
| Area | Lazio |
| Nearest village | Vallepietra |
| Elevation loss | 220 m |
| Length | 600 m |
| Highest cascade | 24 m |
| Rock | Limestone |
| Rating | 2 |
| Shuttle | No |
| Explored by | Andrea Pucci, Stefano Gori; june 2019 |
&nbsp
Click here to buy passcodes
What you find in the detailed description
I remember ...
After three months spent in gnawing our liver at home or at office, lockdown ended. Since a few days we are allowed to move within the region and so I can resume my outdoor activities. However, since this seems too much freedom to Zingaretti, the president of region Lazio, here comes an order that forbids to go out of the province of residence.
Luckily the Roma district is wide enough, and it has mountains and valleys and canyons ...
I need breathing the nature again, seeing wide and wild spaces around me, moving and toiling in the midst of beauty, getting away from the terrified and monothematic hammering to which we have all been subjected for months now ... Fosso delle Vaglie seems perfect for all this. Andrea and a friend explored it last year. In the videoclip he put on the internet I see interesting spots and a beautiful Apennine environment in a place that I don't know. The route doesn't seem particularly demanding, and that's okay because in these 3 months of house arrest I have certainly lost training.
The travel makes me cross some villages. Seen from the car, people walking around seem dazed and frightened. The landscapes of upper Aniene valley take that feeling away, but not entirely. Finally I arrive on the place, I change and start the uphill approach walk. Soon I feel fatigue, a lot, too much. I realize that fitness has gone to hell, and it will take long to recover it.
Unexpectedly, 3 hikers appear, a man and 2 women, descending along the path. The women wear a mask around their neck and pull it up as soon as they notice my presence. I keep a couple of meters away while we chat. Unlike me, they stopped at a bar in the village before taking the hike and someone told them "don't come here, you might bring us the virus".
But finally the descent begins, and in my head there is room only for the stream, the beauty, the attention to movements and rock passages, the abseils, ...
The route ends. I am at the car eating a sandwich while an old farmer comes to chat, keeping the distance but without anxiety, with a smile.
Life goes on.
Copyright © 2002- Michele Angileri. All rights reserved.