canyon exploring with Michele Angileri
Vallone Sa¨colo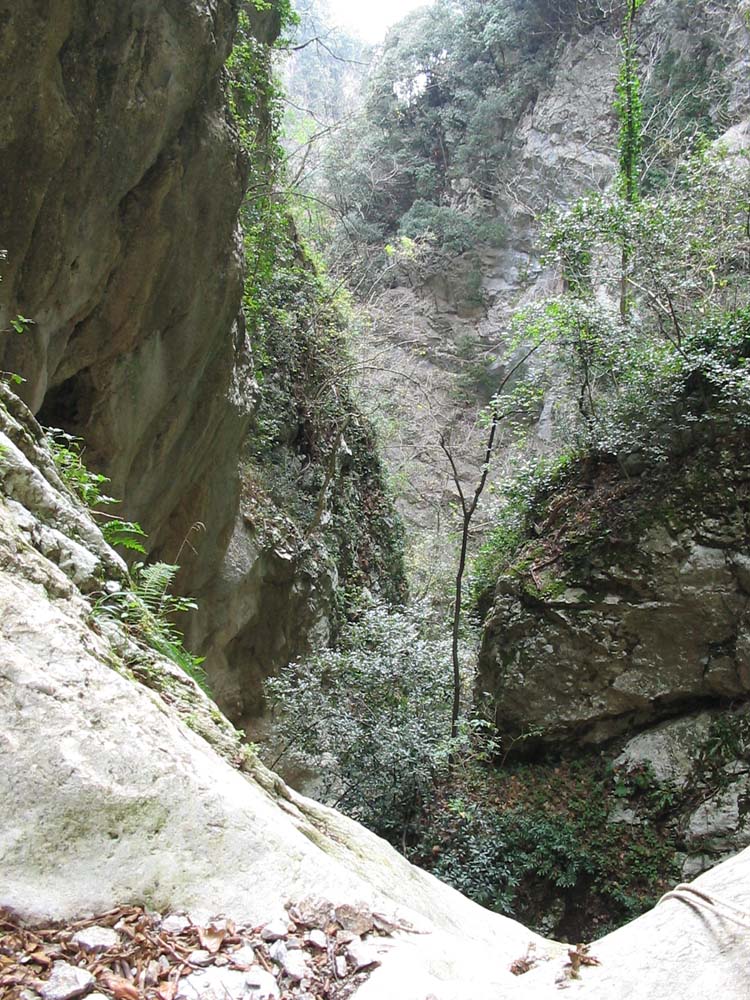 On the mountain beyond the village of Solopaca the canyon of Vallone Sa¨colo gives the canyoneers a beautiful and easy descent, perfect for beginners.
| | |
| --- | --- |
| Name | Vallone Sa¨colo |
| Area | Campania |
| Nearest village | Solopaca (Benevento) |
| Elevation loss | 250 m |
| Length | 1 km |
| Highest cascade | 20 m |
| Rock | Limestone |
| Rating | 1 |
| Shuttle | No |
| Explored by | Michele Angileri, Francesca Antonelli, Danilo Blanda, Renato Donati, Riccardo Donati, Pier Francesco Intini, Edoardo Malatesta, Antonio Sera; december 14 2003 |
&nbsp
Click here to buy passcodes
What you find in the detailed description
I remember ...
Every year Renato, Antonio and Edoardo organize the Christmas Canyon, a convivial meeting with a canyon trip. On a saturday of december they get by a canyon with a lot of meat, wine and sausages. At night they roast meat on the fire, play and joke, talk, tell stories, ... Then sleep in tents. The morning after they do the canyon trip.
On december 2003 Renato was looking for the right place for Christmas Canyon. I had an idea: add to the meeting the pepper of an unexplored canyon. We located a dry canyon a couple of months before. It was situated in Campania, far enough to require a bivouac. Dry, not so long ... it looked perfect for the meeting!
It was all right! weather wasn't icy, sky was clear and we saw falling stars at night ... Roasted meat, jokes, talks, ... The only little disappointment came from the canyon: too easy for a team of skilled canyoneers! However the canyon was really nice!
Copyright © 2002- Michele Angileri. All rights reserved.