canyon exploring with Michele Angileri
Forra del Poio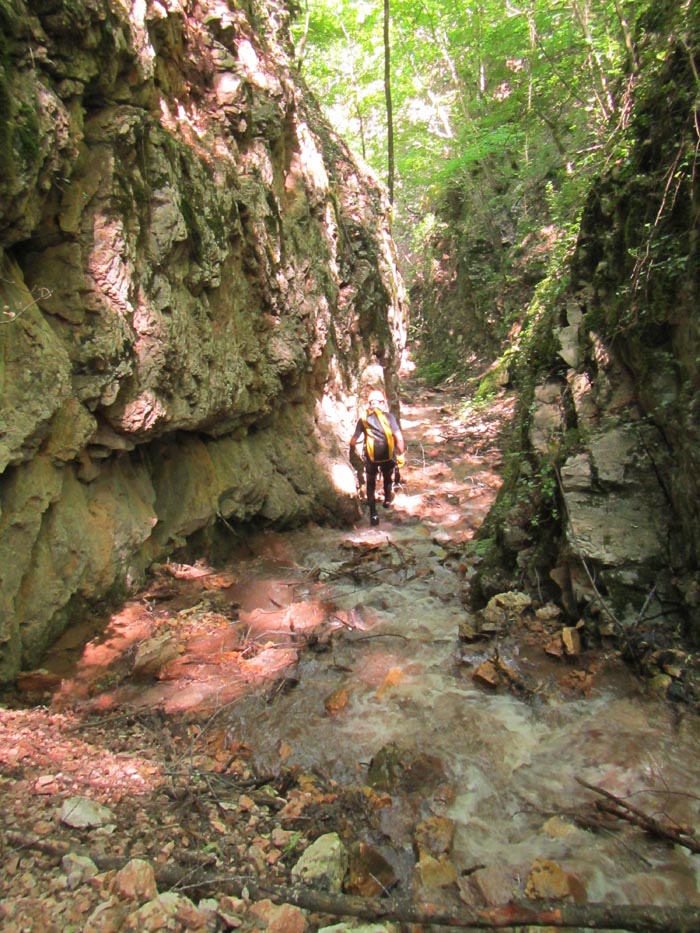 The mountains near to the village of Poggiodomo have bands of pink limestone walls surrounded by green woodlands. In these particular rock may occur the right conditions for the genesis of narrows as impressive as unexpected, like the one in which a flows Poio creek. Unfortunately, the narrow of Poio is also very short: in less than 100 m an anonymous and steep wooded valley turns abruptly in an amazing narrow between contorted rocks that almost hide the sky and then, abruptly, returns an anonymous, wooded valley, exactly as before.
| | |
| --- | --- |
| Name | Forra del Poio |
| Area | Umbria, Valnerina |
| Nearest village | Poggiodomo |
| Elevation loss | 220 m |
| Length | 900 m |
| Highest cascade | 5 m |
| Rock | Pink limestone |
| Rating | 2 |
| Shuttle | Possible |
| Explored by | Michele Angileri, Andrea Pucci; june 16 2013 |
&nbsp
Click here to buy passcodes
What you find in the detailed description
I remember ...
Exactly like in Fosso dello Scoglio Rosso, we found an industrial rope fixed on last cascade. Clearly someone with no knowledge of caving or climbing had come here from below (last cascade can be climbed with little difficulty). Perhaps these were the same people who had already reached the Scoglio Rosso narrow, 18 years before, or maybe not: industrial rope was not concreted and it gave me the idea that she had been there for a few years.
Copyright © 2002- Michele Angileri. All rights reserved.