cookieless, no-ads, no threats canyon exploring with
Michele Angileri
Riu Meriagu Mannu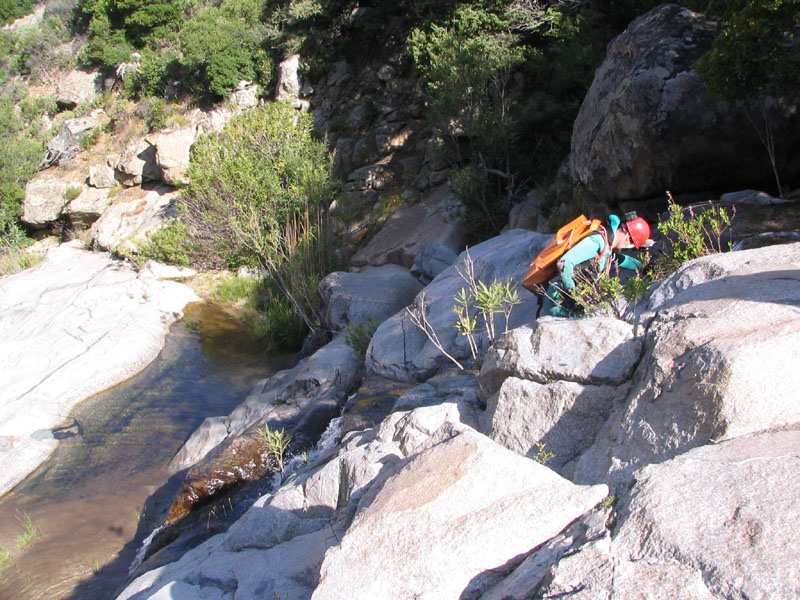 In the granite rock of southern Sarrabus there are the quiet cascades and the pools of Riu Meriagu Mannu. A full mediterranean authentic sardinian scenery opens to the eyes. Emotions come from the intense beauty of the 37 meters cascade, falling down a big rounded granite plate.
| | |
| --- | --- |
| Name | Riu Meriagu Mannu |
| Area | Sardegna, Sarrabus |
| Nearest village | Geremeas (Quartu S. Elena) |
| Elevation loss | 160 m |
| Length | 1300 m |
| Highest cascade | 37 m |
| Rock | Granite, basalt |
| Rating | 3 (late spring) |
| Shuttle | No |
| Explored by | Michele Angileri, Andrea Pucci, Carlo Scappaticci; may 1st 2008 |
&nbsp
Click here to buy passcodes
What you find in the detailed description
I remember ...
In Sardinia canyons open through different kind of rocks: limestone, granite, metamorphic sandstone, basalt, ... Each kind of rock gives canyon landscape peculiar forms and colours. However all of Sardinia's canyons have a common feature: oleanders.
In Sardinia oleanders are much bigger and higher than in Italian Peninsula. In every river bed they form little dense forests that canyoneers have to pass by moving like snakes, finding a way between branches and trunks.
Things are much worse when blackberry bushes and other spiny mediterranean bushes grow between a dense forest of oleanders that fills the bottom of a canyon ...
This happens in Riu Meriagu Mannu. After the last cascade the river-bed have an impassable forest of oleanders and spiny bushes. But we didn't know a better way to go out of canyon, and so we had to open our way by naked hands amidst that impassable bush. It wasn't funny ...
A better way appeared when we were sat in our car ... That might be the right way to exit the canyon, but we realized a bit too late ...
The followers will say.
Photos by Michele Angileri and Andrea Pucci
Copyright © 2002- Michele Angileri. All rights reserved.