cookieless, no-ads, no threats canyon exploring with
Michele Angileri
Bau de Lispedda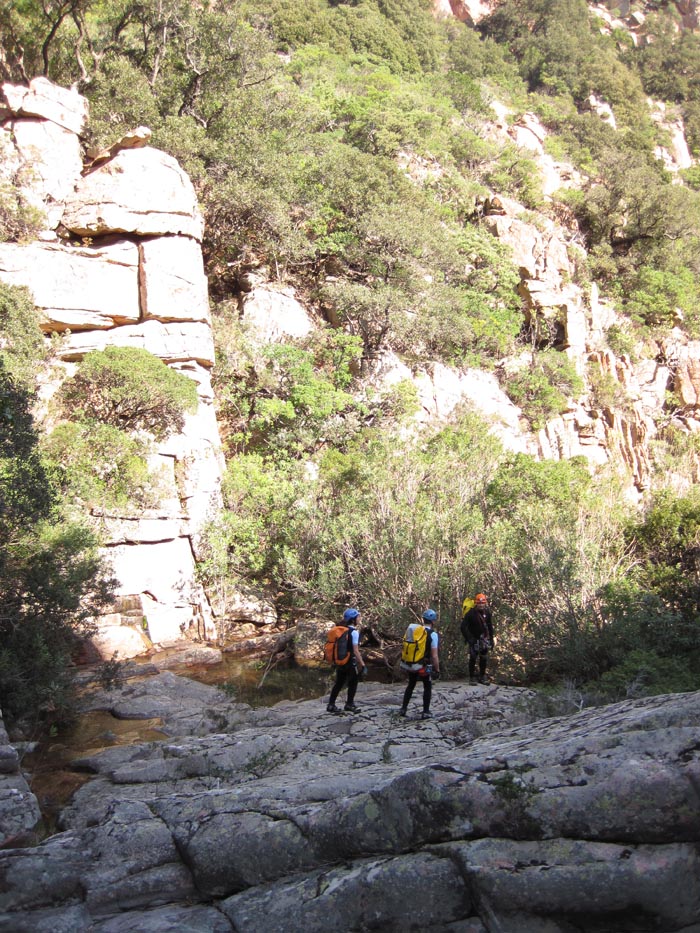 The descent of the Bau de Lispedda is a solitary journey through the wild bush, oleanders, and pink granite rocks of all shapes and sizes, starting high on the mountain and ending in the beautiful sea of Ogliastra.
| | |
| --- | --- |
| Name | Bau de Lispedda |
| Area | Sardegna, Ogliastra |
| Nearest village | Cardedu |
| Elevation loss | 400 m |
| Length | 3 km |
| Highest cascade | 26 m |
| Rock | Granite |
| Rating | 4 |
| Shuttle | Needed |
| Explored by | Michele Angileri, Guido Biavati, Elisabetta Pinna, Andrea Pucci; march 31st 2012 |
&nbsp
Click here to buy passcodes
What you find in the detailed description
I remember ...
It might seem obvious, but it is absolutely true: the exploration of a canyon allows you to see places and sights no one has ever seen before. Sometimes it happens having before the eyes one of those images so unusual and particular to be really an "icon" of that place or the region.
It happened in Bau de Lispedda. When we were near the end of canyon we passed below the big rock you see in photos 14 and 15. The rock has the shape of an alien Guardian and his giant dog, observing the valley and the very few who dare to follow it.
In my opinion the image of the giant Guardian and its environment symbolizes the beauty and nature of this part of Sardinia.
The Guardian observed us passing. In a glance he understood that we love and deeply respect the Bau de Lispedda, its rocks, oleanders, its wild scrub, its euprotti and the blue sky.
Photos and video by Michele Angileri e Andrea Pucci
Copyright © 2002- Michele Angileri. All rights reserved.