cookieless, no-ads, no threats canyon exploring with
Michele Angileri
Fosso Cornicello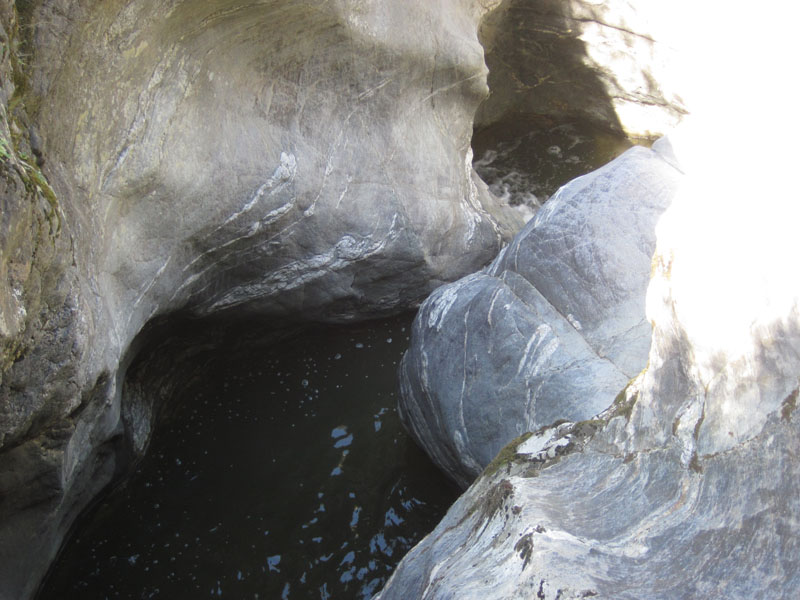 In the eastern border of Sila Mounts landscape features a mixture of different grounds and rocks, that give it a great variety of forms. Harsh rocky peaks and ravines are side by side with sweet green hills covered by olive groves. You might not figure this is a good terrain for canyons, but this is. Here you find the nice canyon of Fosso Cornicello, developing at the foot of the beautiful mesa that centuries ago hosted the ancient town of Acerenzia.
| | |
| --- | --- |
| Name | Fosso Cornicello |
| Area | Calabria, Sila |
| Nearest village | Cerenzia |
| Elevation loss | 200 m |
| Length | 2300 m |
| Highest cascade | 28 m |
| Rock | Gneiss |
| Rating | 4 |
| Shuttle | Possible; not indispensable |
| Explored by | Michele Angileri, Michele Cappiello, Savino Leone, Luca Sivo, Riccardo Hallgass: november 2 1991 - july 23 1992 |
&nbsp
Click here to buy passcodes
What you find in the detailed description
I remember ...
At last I did it! In 3 years (at least) I never got to find the good conditions to be back through the canyon of Cornicello. Once it was raining, another time stream was dry, or polluted, or I was not in Calabria or I had to go through an unexplored canon instead ...
At last (easter 2010) all was good, and so I could repeat this beautiful canyon after almost 20 years since I explored. It is the first canyoning trail ever discovered in Sila mounts, and it's among the most interesting ones.
20 years ago I was in Sila for an exploring camp of "Sparviere" caving team. In those years the "Sparviere" was nearly the only caving team operating in the Cosenza district. The headquarters were in the little village of "Alessandria del Carretto", lost among the mounts of north-eastern Calabria, far from everthing (even caves!), but in fact almost all its members (including Sparviere's president) lived near Bari (the main town of Puglia), 200 km north of Alessandria.
I was not a member of "Sparviere". I was at the camp as a "last minute host".
The caving news of those years were the discovery of gypsum caves in Verzino area. Camp's aim was to explore some branches of gypsum caves, and to make topography of the known parts. I had never been in a gypsum cave before, and the whole area was unknown to me. So I looked at every detail of that beautiful landscape very attentively.
That's how I realized there was a canyon at the foot of Acerenzia's gypsum mesa. I had 2 wetsuits with me, so I proposed the exploration to a couple of cavers. I can't say who was the foolest: me because of doing the proposal or they because of saying ok ...
At canyon's start we were 4. Our gear was: one 50 meters rope, 3 harnesses, 2 light wetsuits, one bolt-picker and a few plates.
I had not much experience in canyon exploring. It was my fourth exploration. It took up the whole day: the first of us reaching the bottom of each cascade had to take off his harness and let others to pull it up so the one without harness (a beginner in caving, he didn't have bought his own harness yet) could put it on.
Moreover the 2 light wetsuit were absolutely inadequate, and we had to try to avoid every pools. Of course the trial was unsuccessful, and we got completely wet.
And we didn't do the complete descent. Luckily at sunset we found a good escape path just before final narrows. I went through it the next year, with my friend Riccardino.
20 years later I am very much more able to go through canyons, and my gear is much more powerful and technical. So I thought that repeating Cornicello would be a very simple thing, but it had not been so. It had been a great adventure, instead, with hours of effort, tricks and 9 bolts! I ask myself how could we manage it 20 years ago ...
The bolts I placed the first time were all rusted, the plates bent by floods ... No one went through Cornicello canyon in 20 years. But times have changed. At the time there was nearly one caving team in the district of Cosenza: today there are more than 20. At the time there were very few climbers and no canyoneers: today there are keens and teams on every mountain sports...
This time Cornicello canyon will not wait 20 years to see canyoneers again.
Copyright © 2002- Michele Angileri. All rights reserved.