cookieless, no-ads, no threats canyon exploring with
Michele Angileri
Canale Castiglione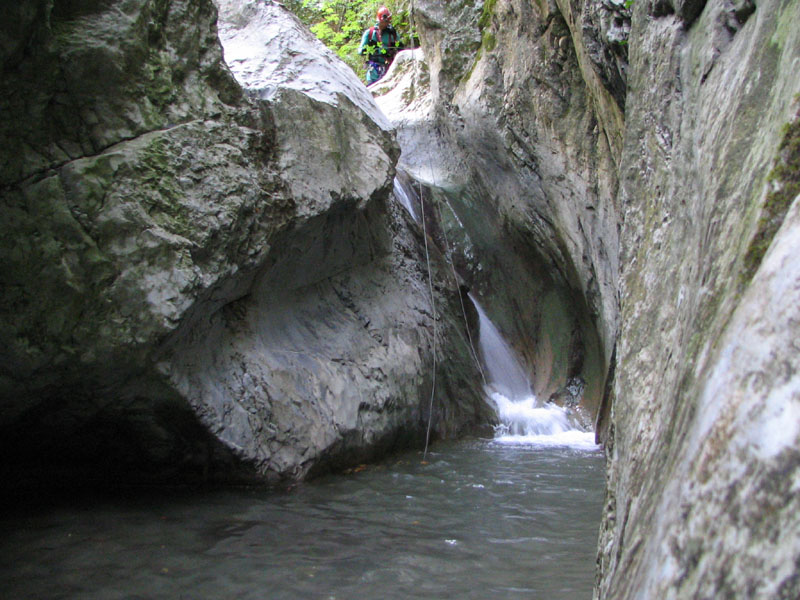 The valley of river Lao is one of the most enchanting places in Calabria, very rich in natural beauties and outdoor sports opportunities. Canyoning enthusiasts find here different trails, first of all the Canyon of river Lao itself. It begins 2 Km down the village of Laino. It is possible to go through Lao Canyon on foot, but only in summer, when water level is at its minimum. But beware: even in summer current is strong and dangerous..
Canale Castiglione is probably the most frequented technical canyon in Calabria. This happens because:
it has a good waterflow even during the most dry summer
it can be descended for almost the whole year (except in very rainy periods)
it is a beautiful exciting canyon
canyon's entrance and exit are both very near to a road (this happens rarely in Calabria)
Castiglione is located near the famous and splendid beaches of Scalea and Praia a Mare, which give to canyoning guides a wide basin where to find clients in summer
Castiglione's features are the most suitable for guided canyoning in this area

So you are probably figuring queues of canyoneers and screaming clients waiting for their turn to rappel ... Nothing of this! even in august you will probably meet only water and rock in Canale Castiglione. The most frequented technical canyon in Calabria is a temple of beauty and solitude seeming to be made just for you.
| | |
| --- | --- |
| Name | Canale Castiglione |
| Area | Calabria, valle del Lao |
| Nearest village | Papasidero |
| Elevation loss | 150 m |
| Length | 800 m |
| Highest cascade | 35 m |
| Rock | Limestone |
| Rating | 7 (summer) |
| Shuttle | Possible, though not indispensable. |
| Explored by | Michele Angileri, Renato Donati; august 18th 2002 |
&nbsp
Click here to buy passcodes
What you find in the detailed description
I remember ...
That day I was worried by two things ... The first was flow: I and Renato had not much trust with waterfalls with abundant flow, and that was not the right chance for experiments. So we planned to rappel out of falling water, but our choice could have been time-spending while time could have been very precious that day.
You should know that summer 2002 was very very rainy in Italy (meteorologists say it was the most rainy summer in 50 years). Every afternoon there were thunderstorms able to generate flashfloods in canyons. Moreover I knew that first part of canyon was very tight.
But all went ok! We needed only 3 exposed belays. Moreover the canyon had many escape points to be used in case of rain. We reached the top of the impressing final waterfall when thunders began. Storm started when descent was over and I was on the way to my car.
Photos by Michele Angileri and Andrea Pucci
Copyright © 2002- Michele Angileri. All rights reserved.