cookieless, no-ads, no threats canyon exploring with
Michele Angileri
Torrente Canalgrande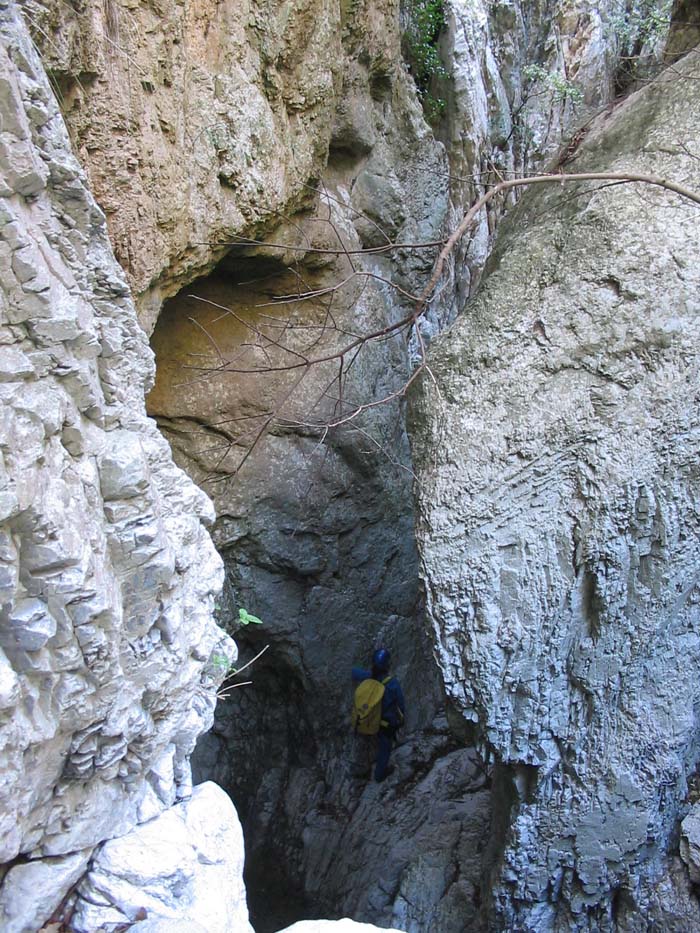 In the northern part of calabrian tirreno coast, between the small plains at the mouths of river Lao and river Noce, there are mountains rising high from the sea of Scalea and Praia a Mare. Here there are some nice canyons, like Torrente Canalgrande. You can see its canyon while driving on a bridge of S.S. 18 highway in the northern side of the village of S. Nicola Arcella. That bridge crosses high the Canalgrande valley.
| | |
| --- | --- |
| Name | Torrente Canalgrande |
| Area | Alto tirreno calabrese |
| Nearest village | S. Nicola Arcella (Cosenza) |
| Elevation loss | 200 m |
| Length | 1000 m |
| Highest cascade | 23 m |
| Rock | Limestone |
| Rating | 3 |
| Shuttle | No |
| Explored by | Michele Angileri, Giuseppe Antonini, Paola Santinelli; january 5th 2005 |
&nbsp
Click here to buy passcodes
What you find in the detailed description
I remember ...
We just parked while a car with two men stopped. We knew one of the two: the son of the farmer who lives there in the countryside called I Pozzi. We had met them the day before, while in reconnaissance to prepare the following canyon explorations. We had chatted about the place and the two streams "impossible to go through" (Canalgrande and Saracena). As usual, it took a bit of time and words for them to accept that a stream "impossible to go through" was right the one we were looking for ...
The two men arrived While we were taking our backpacks from the car. Hello! How are you? Here we are, going to descend the Canalgrande!
From here?
Why not?
It's far from here, and path is full of spiny bushes ... There's a better way, far better. Follow me, I'll show you!
He was right, that path prooved to be the best. We were at the begninning of the canyon in fifteen minutes!
Copyright © 2002- Michele Angileri. All rights reserved.