cookieless, no-ads, no threats canyon exploring with
Michele Angileri
Risorgenza degli Ausi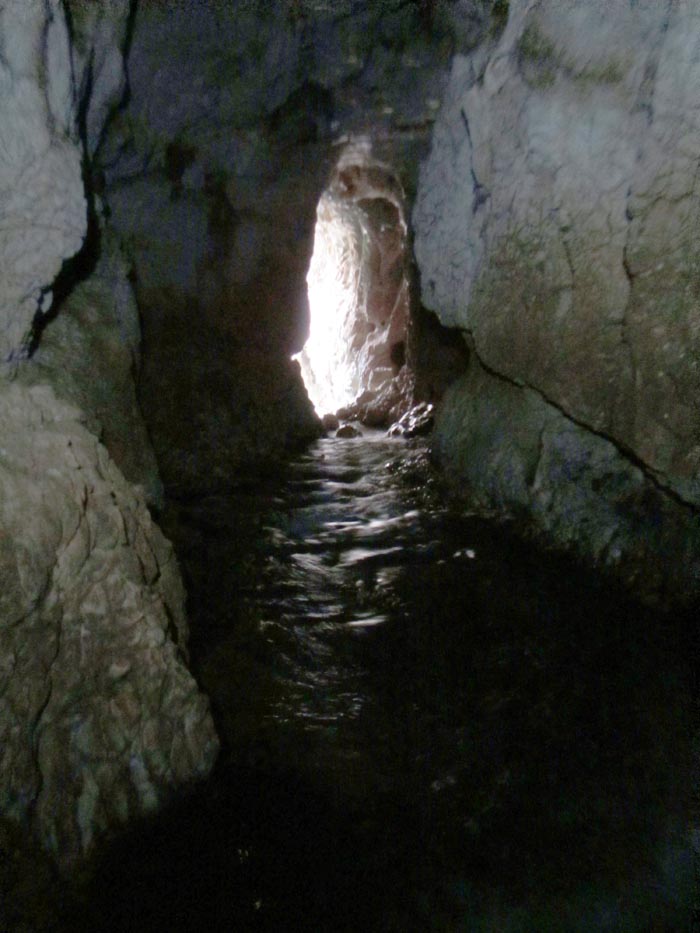 The whole water of Lepini, Ausoni and Aurunci mounts flows underground, given the nature of these karst massifs located in the south of Lazio, overlooking the Tyrrhenian Sea.
So, if you want to follow the water of a creek embedded in the limestone of these mountains you must reach its underground course. This can be very difficult and fully outside the frame of canyoning, but there is an exception: the Grotta degli Ausi (Ausi cave).
The Ausi cave is a resurgence from which sees the light an ever-flowing stream that has run approximately 1 km of nice tunnels inside a modest hill in the countryside of Prossedi. With no technical difficulties, the cave requires getting wet to the pelvis, so a wetsuit is needed.
| | |
| --- | --- |
| Name | Risorgenza degli Ausi |
| Area | Lazio meridionale |
| Nearest village | Prossedi |
| Elevation loss | -10 m |
| Length | 900 m |
| Highest cascade | 0 m |
| Rock | Limestone |
| Rating | 1 |
| Shuttle | No |
| Explored by | L. Zileri, A. Osti, G.A. Bizzarri, E. Pietromarchi; april 1st aprile |
&nbsp
Click here to buy passcodes
What you find in the detailed description
I remember ...
In my opinion, the way cavers live caving activity suffers from excessive ambition to seriousness (which is different from seriousness itself). Speleology is, by its nature, strongly characterized by the research and exploration, but I think these aspects are generally lived in an exaggerated way: the activity carried out by caving groups too often tends to neglect the aesthetic-playful-sport elements, IMHO. The beauty of an underground environment, its "alien" nature or the distance from the outside world (measured in hours of progression required to reach it) are considered of secondary importance if compared to the existence of the cave itself and the depth reached. So the caves being explored are too often horrible casings that penetrate into the mountain without ever reaching aesthetically acceptable dimensions, places in which progression is exhausting, places that in case of accident (even light one) turn out to be death traps, with bottlenecks that need to be artificially enlarged to let you pass.
But there are also beautiful and easy caves like the Ausi resurgence, affordable for everyone and even with a slight taste of canyoning. The paradox is that these beautiful and easy caves are also neglected, because they are considered unattractive on the exploration and technical terms, or perhaps, who knows, for that slight taste of canyoning, due to the presence of a stream that forces cavers to get wet.
So you can live in Lazio and do caving for years, perhaps for a lifetime, without ever going to the Ausi. And when, after 20 years of caving, you decide to go there you find yourself in blissful solitude in a place that seems to be there just for you.
Copyright © 2002- Michele Angileri. All rights reserved.